Bamboo powder is a bamboo extract, considered by many to be a substance rich in natural antioxidants and supporting the body in slimming. But is it really so effective? I invite you to the article.
What is bamboo powder?
Bamboo extract (phyllostachys heterocycla) is a rich substance in natural antioxidants that inhibit the absorption of glucose from the digestive tract. Bamboo symbolizes longevity in China, and in Japan – purity. Bamboo is used in medicine, in the kitchen and even in the clothing industry as antibacterial threads.
Who should use?
Bamboo extract has been used as an ingredient of dietary supplements used for weight loss. It increases the reduction of body fat and improves body structure when combined with caffeine or other thermogenic substances. Bamboo contains necessary for the biosynthesis of proteins, which in turn is an inherent element of the proper functioning of our bones, hormones and muscles, and even the immune system.
Bamboo powder – action
Bamboo extract has antioxidant and fat burning properties. It is a source of minerals such as calcium, iron, potassium, silicon, sodium, iodine, amino acids and vitamins. Bamboo has a positive effect on the joints, making them elastic and stabilizing. Thanks to the calcium and vitamin D content, it hardens bones. In addition, it has a strengthening effect on the tendon and structure of blood vessels. The teas made from it favorably affect the regulation of digestive processes and metabolism.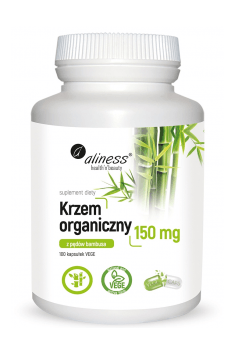 How to dose?
There is no detailed information about the dosage of the bamboo extract. To determine the optimal dose, follow the recommendations of the supplement manufacturer or consult a specialist. The main contraindication to the use of bamboo powder supplements is hypersensitivity to this ingredient.